Forest Biology and Watershed Management Stories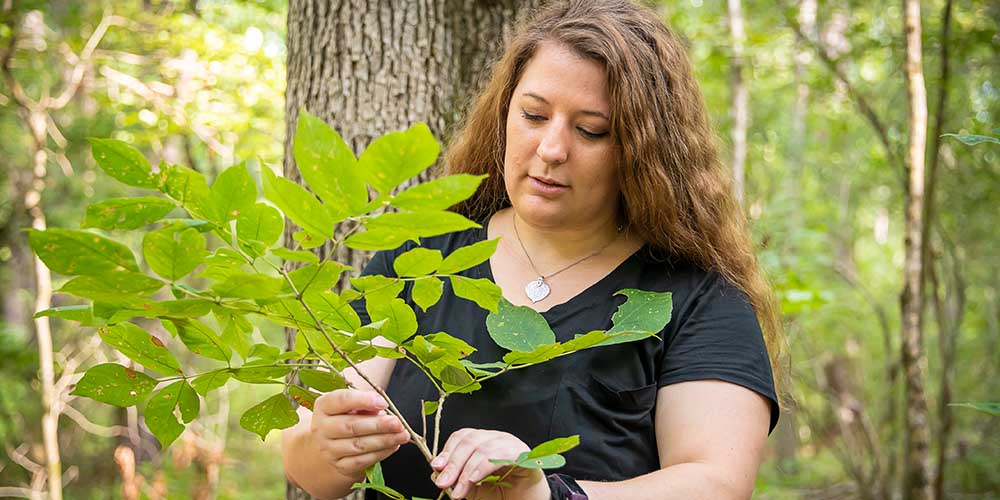 Anticipating Invasive Insect Impact Before the Threat Arrives
Invasive insects, like the emerald ash borer and the redbay ambrosia beetle, wreak havoc on native ecosystems, kill hundreds of millions of trees, and cost hundreds of millions of dollars per year in lost revenue, management costs, and loss of ecosystem services in North America. Dr. Ashley Schulz, assistant forestry professor, is part of a team working to predict whether insect species will highly-impact North American conifers and hardwoods before they arrive here. team has a dataset of 300 European insects that have not yet arrived in North America and is establishing a baseline to determine which insects will be risky. The work was published in Biological Invasions and the team is now incorporating their models into a new pest predictor tool for i-Tree, a peer-reviewed software suite from the USDA Forest Service and Davey Tree Expert Company that produces forestry analysis and benefits investment tools. The research is funded through the United States Geological Survey John Wesley Powell Center, the USDA Forest Service National Urban and Community Forestry Advisory Council, and the MSU Forest and Wildlife Research Center.

Collaborators include the University of Maine, Dartmouth College, the University of Georgia, Colorado State University, Arkansas State University, University of Wisconsin, University of Washington, University of Nebraska, the USDA Forest Service, the United States Geological Survey Southwest Biological Science Center, and Davey Tree Expert Company.
2022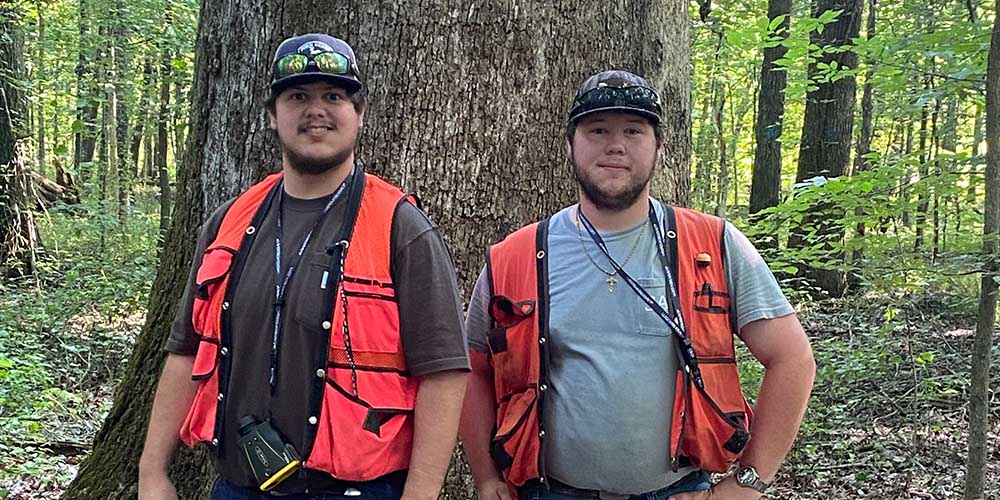 How Diversification of Tree Species Helps Timber and Wildlife
Bottomland forests reduce the risk and severity of downstream flooding by providing areas to store floodwater. These wetlands also improve water quality by filtering and flushing nutrients, processing nitrates and organic wastes, and reducing sediment before it reaches open water. Dr. Joshua Granger, an assistant forestry professor, and his team aim to demonstrate novel silvicultural techniques to restore floodplain forests and wildlife habitat across Mississippi and Arkansas. The team plans to restore 344 acres of degraded natural bottomland hardwoods and 400 acres of early-rotation bottomland hardwood plantations across the four sites. Dr. Dana Morin, assistant professor in the Department of Wildlife, Fisheries and Aquaculture, leads the wildlife monitoring aspect of this project.

Morin and her team are sampling the study areas, collecting fecal pellets from swamp rabbits to extract DNA, identifying individuals, and estimating abundance before and after restoration activities to assess how swamp rabbit populations respond. The team is also underplanting, or planting under the trees with lower-growing plants. As the research continues, the researchers are excited to diversify the land while restoring habitats and the environment. This research is sponsored by the National Fish and Wildlife Foundation. In addition to Granger, the MSU forestry team includes Drs.

Krishna Poudel, Brady Self, and Robert Grala, and Timothy Gatlin, forestry graduate student. Collaborators in the Department of Wildlife, Fisheries and Aquaculture, in addition to Morin, include Drs. Mark McConnell and Brian Davis; and Chloe Beall, WFA graduate student.
2022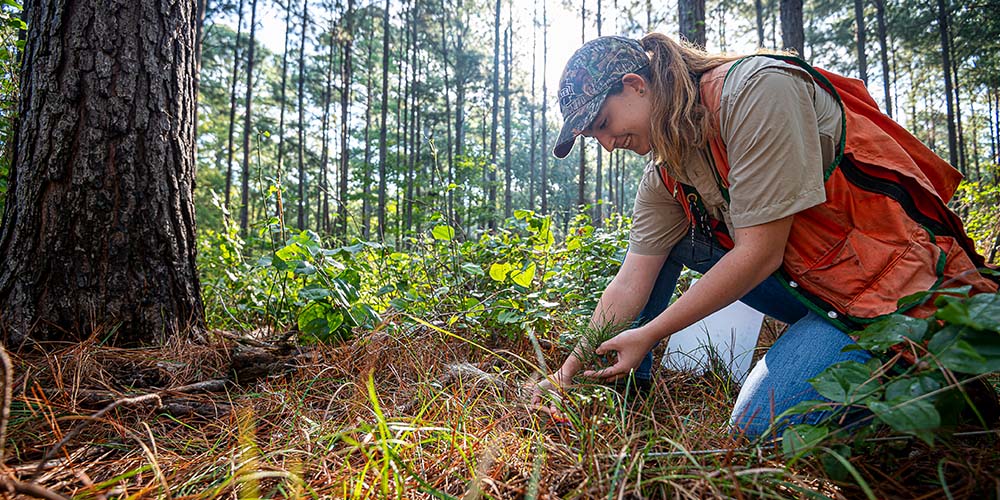 Graduate Research Aimed to Expand and Modernize Multiple Species Planting
Graduate student Darcey Collins grew up surrounded by hardwood forests and pine plantations and followed her father and grandfather in pursuing a career in protecting forests. Collins earned her bachelor's degree from MSU and as a graduate student, she has taken opportunities to get involved in the department, such as becoming an officer in the Forestry Graduate Student Association. Her research focuses on diversifying managed forests by planting multiple hardwood species under a pre-existing canopy and observing growth success. She had success planting and establishing hardwood seedlings on a pine plantation within the boundaries of the Bankhead National Forest in Northern Alabama. While her degree program is complete, the trees continue to grow.

She believes her work might contribute to future research that will help nonindustrial private landowners transition from single-species pine plantations to mixed plantations that include higher value hardwood species.
2021