Latest Publications
Adams, H.L., L.W. Burger Jr., S. Riffell. 2015. Edge effects on avian diversity and density of native grass conservation buffers. The Open Ornithology Journal 8:1-9. Download
Bowling, S.A., C.E. Moorman, C.S. Deperno, B. Gardner. 2014. Influence of landscape composition on northern bobwhite population response to field border establishment. Journal of Wildlife Management 78(1):93-100. Download
Conover, R. R., S. J. Dinsmore, and L. W. Burger, Jr. 2014. Effects of conservation practices on bird community structure within an intensive agricultural landscape. American Midland Naturalist 172:61-75. Download

About CP33
What is CP33?
In 2004, the United States Department of Agriculture-Farm Service Agency (FSA) established conservation practice Habitat Buffers for Upland Birds, or CP-33, under the Continuous Conservation Reserve Program (CRP). CP-33 aims to provide habitat for northern bobwhite and other upland birds via landowner incentives to establish native grass buffers along row-crop field margins. CP-33 is a "win-win" for producers—it allows retirement of unproductive field margins, often with net financial gains through practice incentives, while providing critical habitat for quail and other upland wildlife.
Why was CP-33 developed?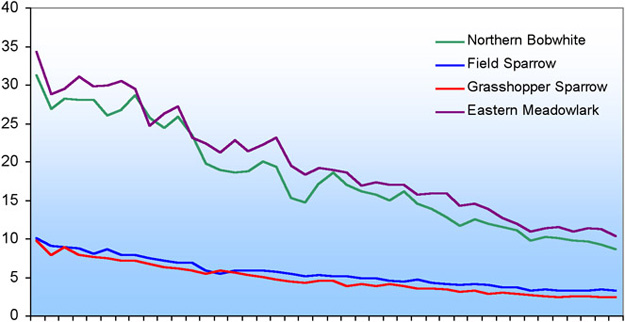 Northern
Bobwhite

Field
Sparrow

Grasshopper
Sparrow

Eastern
Meadowlark
In response to the current bobwhite population decline, a range-wide, habitat-based population recovery plan called the Northern Bobwhite Conservation Initiative (NBCI) was developed by the Southeast Quail Study Group (SEQSG), now the National Bobwhite Technical Committee (NBTC) in 2002. The NBCI provides regionally explicit habitat and population goals designed to recover bobwhites to average 1980 population densities on existing improvable acres.
The CP-33 practice was developed to directly address population recovery goals of the NBCI, by encouraging conservation practices that coexist with agricultural production. Economic incentives to create CP-33 upland habitat buffers around cropped fields are one method to increase early-successional habitats for bobwhite and upland songbirds with minimal or positive economic impact on producers and landowners.
Where is CP-33 implemented?
FSA recently increased acreage allocation to 350,000 CP-33 acres in 35 states within the bobwhite's range to be actively managed over a period of 10 years (Figure 2). As of June 2010, 227,318 acres were enrolled in CP-33 in 25 states (Fig. 2). Under CP33, upland habitat buffers 30 - 120 feet wide can be established around part or all of the field margin of eligible croplands.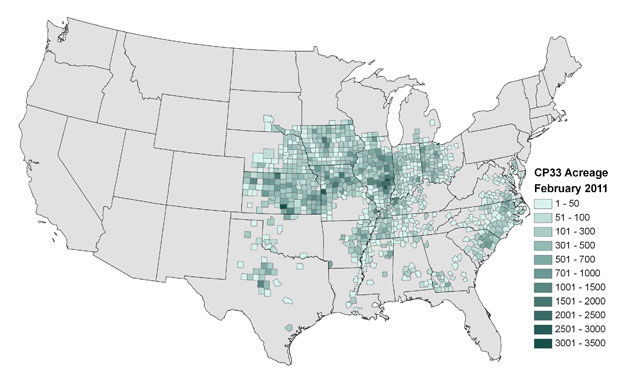 What makes CP-33 unique?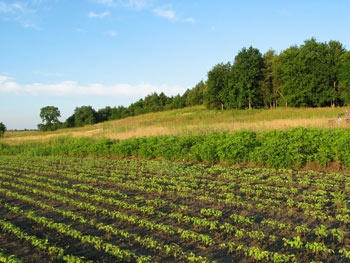 CP-33 is unique in that it is the first federal conservation practice specifically designed to address the population recovery goals of a large-scale wildlife conservation initiative, the NBCI. CP-33 is also unique because it is the only CCRP conservation practice that allows entire field perimeters to be buffered (i.e., there is no downslope edge requirement). Finally, CP-33 is also the first federal conservation practice with a wildlife monitoring requirement. FSA required that states receiving a CP-33 allocation develop a plan to evaluate the effect of CP-33 buffers on bobwhite and upland bird populations. FSA charged the SEQSG with the development of a coordinated CP-33 monitoring program across the bobwhite's range. The national CP-33 monitoring program and a CP-33 monitoring protocol were developed by SEQSG and Southeast Partners in Flight in 2006, and coordinated through the Mississippi State University Forest and Wildlife Research Center.